Individual Coaching Care for Time-Crunched Cyclists
Did you know that you can probably
ride a lot faster on a bike

even if You are more busy than Tadej Pogačar's during the Tour de France? Discover one-on-one coaching for time-crunched Cyclists!
Isn't this another time when you are looking for improvement in cycling?
We've probably been in your situation already and many athletes are still there. It looks like this – you are a busy entrepreneur, manager or specialist who loves cycling and spends several hours per week on the bike. Probably make huge efforts to combine work, family and other duties with bike. Am I right?
Despite this, for a long time you have not achieved the progress you dream about. Sometimes your trainings are boring, your main competitor or buddy is stronger than you and you do not have time and willingness to delve into complex training analysis, checking intervals and following the latest knowledge about cycling training.
With a high degree of probability, you deal with many spheres of life that require top performance from you. You take care of your family, professional duties, run your business. You are responsible for picking up your car from the repair shop, and taking care of your home garden or a leaking tap.
In all of this, you try to find time for yourself and for cycling training, which gives you a lot of fun, a sense of freedom and satisfaction. But you do not find the time and willingness to take care of your training process. There are questionas like: what intervals to perform, how long they should last, or do them at all, how to assess the level of fatigue, how to prepare for the next competition, what to do with the last FTP result, how to effectively lose excess belly fat, or do 3h of endurance ride or maybe 4h. If you have similar dilemmas or your story is at least 10% as described above, I can safely advise you – read on and you will find out what you can do to achieve great progress in cycling, regardless of your current situation at work and at home.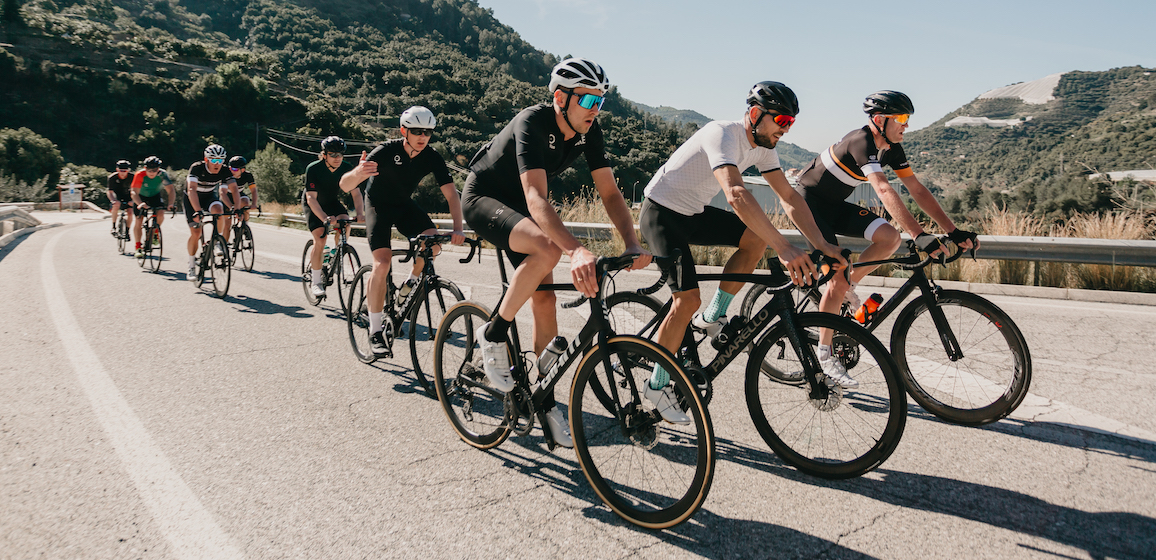 It is not all online. We often train during our training camps in Spain and Italy.
Is knowledge enough to become a stronger athlete?
Having access to the Internet, you can acquire knowledge in a very easy and fast way. This also applies to cycling training. If you enter phrases like "cycling training", "cycling training plan"  in Google, we get 5.3 million results (similar phrases in English already give you, SIC!, 131 million results and on top of that don't forget about social media). Which of these sources are true? How to combine different information on the method of periodization, training length, dozens of FTP determination methods with training practice in your everyday day? Who has time to figure this out?!
The task seems impossible not only for the average kilometer eater, but even for a cyclist who has been training for many years and has already worked with a coach, pre made training plans or who just ride based on body signals.
The training platforms are multiplying like mushrooms after rain and do not make things easier. Exercise plans for cyclists provided in this way are quite good in terms of training methodology and comply (though not always) with the basic principles of exercise physiology.
However, they do not have one thing that seems to be gaining more and more importance in today's world, because it is more and more deficit – a living relationship with another person who can motivate, explain, encourage, support and advise in a human way. In addition, who is a cyclist like you, and does not only learn from books.
What time-crunched cyclists value the most in cooperation with an experienced coach?
People, we work with, appreciate one thing the most – the fact that someone watches over their training and they are more motivated to follow the plan.
Because it is important to them. Because they like to feel that they are doing something useful with their time. Because they like to get tired. Because sometimes they don't want to, but when they see the schedule in Training Peaks, they know that the coach will check it. Because they appreciate that they can write to the coach on whatsapp "Hey, today it's raining all day and I won't do 4 hours outside – can you throw me something shorter on the home trainer" or just "today I was strong!" and get a real, encouraging feedback.
Because they just like to work with someone who has already taken the path they just took. Because they know that it is simply the shortest and fastest way, and at the same they have supporting companion.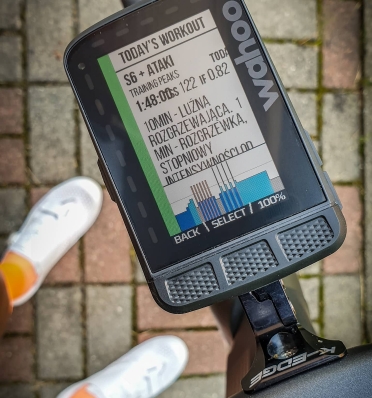 You will see each scheduled training on your Garmin, Wahoo, Zwift and many more devices.
Athletes who work with us are ordinary people like you
People we work with have different stories.
Some of them have already worked with the coach, but they have been disappointed by this cooperation. Either because of the lack of results or because of poor communication – these are common reasons. Some people want to return to cycling after a long break because they practiced this sport when they were young, long before family, work and regular life. Some of them are motivated by competition – the smell of the podium, beating their competitors by a few minutes at the finish line or feeling of burning lungs after crossing the final line. This is what they like the most. Some want to see higher numbers on their power meter during the FTP test: 200W, 274W, 340W, 460W.
We have seen all these numbers among our athletes and although not everyone can reach 6W / kg, practically everyone can reach 4W / kg and more with a sufficiently long learning curve (mostly 6-12 months for well trained and 2-3 years for beginners). Some people want to drop a bit here and there through training. Then stand in front of the mirror during the morning toilet and say being proud of oneself "I did it!".
We share the same passion as you.
Is the coach support dedicated only for proffesional athletes?
Sometimes we explain to different people that we did not create Way2Champ for professionals. Yes, we train some pros. At the same time, this is a fraction of the cyclists we work with. 90% of people are athletes who already have had a few years of training behind them or have trained this sport when they were young. They have their goals and dreams they want to achieve with our help. Some of them are just beginners. We don't judge.
Some people come to us being over 50 and this is their first contact with a professional trainer. Some are 35 -45years old and have realized that they want to do something more for their health and have fun at the same time.
And some people just want to take a challenge.  We are to help them fulfill themselves in cycling. We believe that this sport, when practiced wisely, supports life in general – it improves energy levels during the day, teaches humility, gives more energy, and in the end allows you to eat more and not feel guilty. Cycling is fun.
Even if you don't have set goals and don't know what you want to achieve – it's not a problem. We help you set these goals and achieve them step by step. Thanks to that, your satisfaction with sport increases even more and this translates into other areas of life.
All of these people have the same problem. They lacked one missing piece of the puzzle that is called: "cycling in my busy life".
Is one-on-one cycle coaching appropriate for me?
The reason these people were frustrated and did not make significant progress in their beloved sport was that they did not have an experienced person by their side who had already walked the path they were about to take and who could lead them by the hand in this process, saving them energy, time and frustration. At the same time, all these people were very motivated to take themselves seriously and determined to listen, to what was advised. In a word, they let themselves be led by the hand.
Do you want to know results
you can achieve with a coach?
Who are coaches that can help me?
Do you want to know results
you can achieve with a coach?
How does the one-on-one cycle coaching work?
The solution is simple because we believe that simplicity is the strength. Our answer to the problems described above is one-on-one cycle coaching for time-crunched cyclists. And only for them.
The fact that we have helped over 400 riders in the last 10 years make their sports dreams come true may not mean much to you. I understand it perfectly. When I myself start working with a consultant or a coach, I always ask myself this simple question – can this person really help me, and is his plan workable? 
A the beginning our coach talks with you to learn about your sports history, see how you have trained so far, what you expect from cooperation, what time limits you have, what equipment you have, do you have access to a power meter/trainer and other equipment useful in training, what are your weaknesses and what are your strengths.
Then he presents an action plan and follows your feedback. The plan is being adjusted and training starts. You will find all your training on Premium Training Peaks account. You can view there the details of each training through a browser on a computer or mobile app. Your Training Peaks will be synced with your Garmin, Wahoo, and so on. As a result, you will find step-by-step instructions for every training on your bike computer.
The coach will follow with feedback every week on particular training units. This way you will learn what you did right, what can be improved, and how to improve. Many questions will arise and our coach is to help you with them. He can advise when you should take a medical exam,  knows which wheels to choose for the next race, or what gear set up will be optimal for you.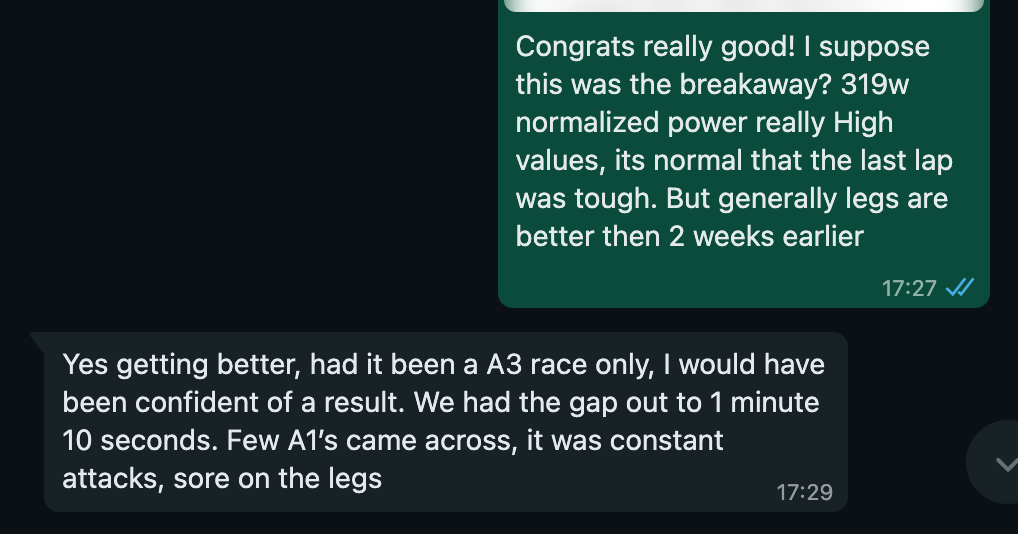 You can  contact your coach via Whatsapp or Messenger.
Coach pats the back when you do something right, but also when you have a momentary dimness. He will not hesitate to rebuke you when he sees you train below your abilities.
Our coach does not work alone but in a team. In this team, our motto is clear – the coach only does the coaching part (and cooperates with a maximum of 10-15 athletes at a time). The rest is done by other specialists – invoicing, accounting, administration, or marketing. In the case of solo coaches, despite having good knowledge and skills, unfortunately, a lot of time is spent on things unrelated to coaching cyclists.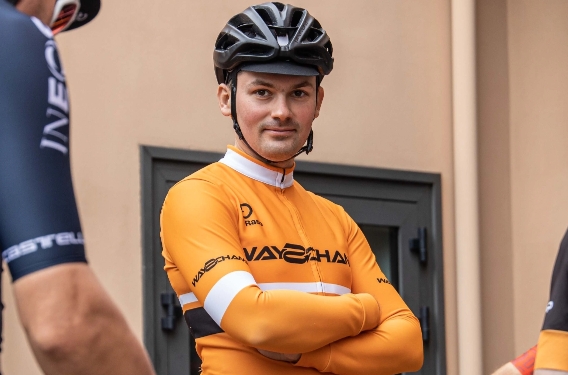 We also train cycling,  We better understand what you are experiencing and how you feel.
We take time to evaluate who will be the best coach to work with you. After all, we have different characters, specializations, and favorite disciplines. We want to be sure that the communication style of the coach will work for you.
The founder of the company, Arkadiusz Kogut, watches over the coaching team. He was a pro rider for 10 years (including the last 2 years in Spain, where he saw that his 78 VO2max, 65 kg, and 5.5 W / kg on FTP are definitely not enough for even a good domestique in the World Tour). Then he started to coach others. He gets the highest possible coaching certificate in the world – a UCI coaching certificate from Switzerland. UCI certifies only 10 coaches per year and Arkadiusz is one o them.
One-on-one cycle coaching for time-crunched cyclists helps cyclists who are busy in their everyday lives to get the most out of the time they spend on training. If they only have 4-8 hours a week at their disposal – we will do everything to make the training most efficient. If they can train more—excellent It will work for advantage. At the same time, we take into account your lifestyle and duties. We take care of the training load, so it is not too big for your personal situation. Training will not cause you to be a dead body at work or at home. Conversely, our athletes say that they have more energy after training.
The cyclists who decided to cooperate with us indicate a few important things.  The training plan is not only prepared in weekly periodization but also modified during the week if you have a trip, have a cold or visit the dentist with children. We change the plan to suit your life, not the other way around.
People also value individual contact with the coach during phone calls, Google Meet video calls (every 2-4 weeks), or a quick exchange of daily messages via Signal, Whatsapp, or Messenger. During the cooperation, we do not only focus on increasing your FTP (which is also important) but on making you a better overall cyclist (flat, short hills, strong group rides, sprints, or long-distance rides). We will advise you on what to eat, drink, regenerate and supplement to take full advantage of your body.
Our athletes take part in training camps that we organize several times a year – Estepona, Almunecar, Calpe, Sardinia, Sicily, and Rimini to name a few. You can shoot kilometers in mountains there, get tips from coaches, listen to lectures, and after training, drink beer or wine in a relaxed atmosphere.
 After all, if you are busy on a daily basis, you need a mental respite at the camp, despite the fact that training is sometimes difficult. Or very difficult. Long-term friendships are established there and people often return to training camps also (or mainly) to meet people.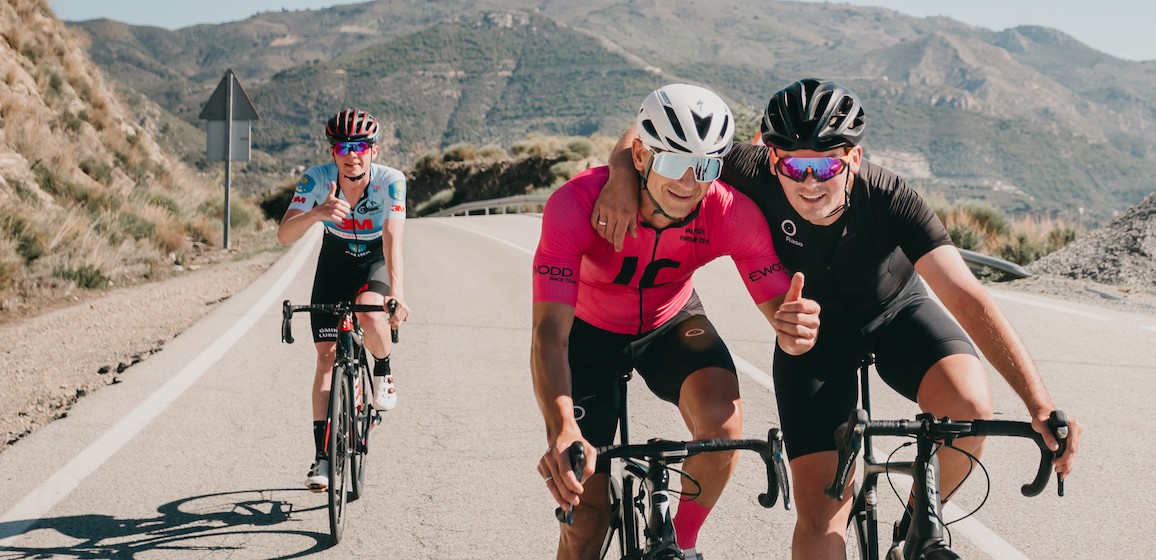 90% of cyclists appreciate the progress they achieve during our cooperation
The main task of the coach is to make you satisfied with the entire process and the results achieved, thanks to which you will work with us for a long time (in worst-case scenerio if you are dissatisfied, you can leave after a month, because we do not have long-term contracts).
Every quarter we send riders satisfaction surveys, in which they can comment anonymously on what they like and what they would change to make the whole process even better (and our average rate among clients is 9.2/10). Our athletes have access to exclusive,  quarterly webinars.
Our coach devotes few hours per month to the rider. This allows him to provide the athelete with adequate attention.
Do you want to know results
you can achieve with a coach?
Is there any evidence that cooperation with Way2Champ coach work?
Finally, you can ask yourself a very important question – is there any evidence that what we say is true? Over the last 10 years, we have collected quite a lot of them. We present the most important of them. 
On the charts you will clearly see each increase in power and you will learn from the coach what your strengths and weaknesses are.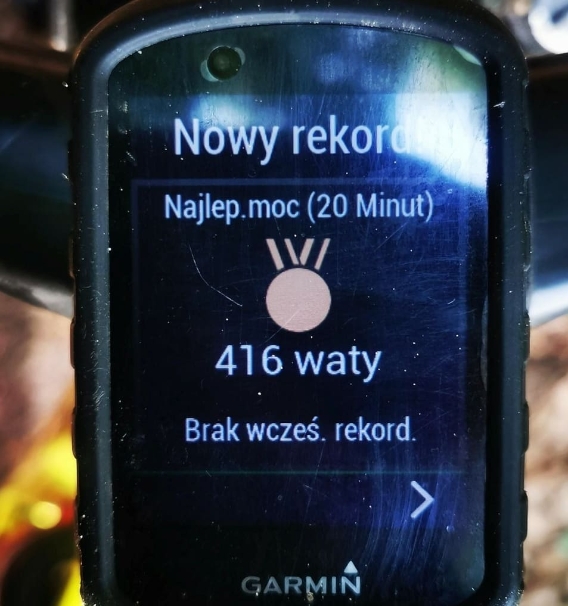 The next records will motivate you to train even harder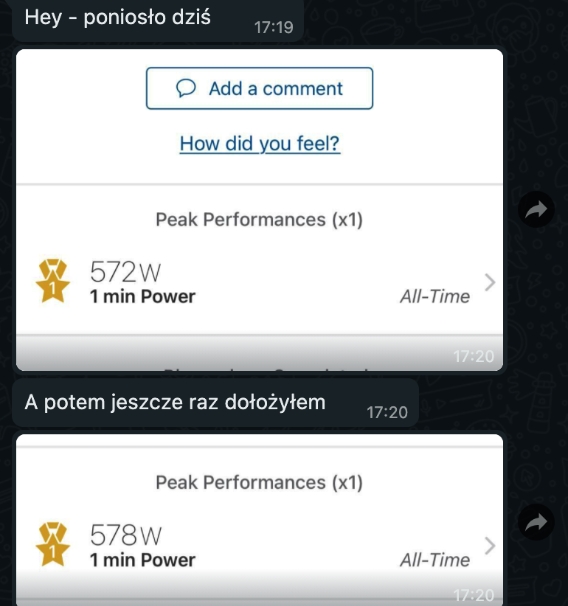 Training Peaks allows you to analyze all data in detail.
Do you want to know results
you can achieve with a coach?
We are trusted by over 400 people. See their opinions
              – Remigiusz, 38 years old
Do you want to know results
you can achieve with a coach?
              – Dominik, road cyclist, 35 years old
              – Tomasz, road cyclist, 45 years old
We are certified by international cycling organizations

Do you want to know results
you can achieve with a coach?
See how our coaching looks like
We developed an offer that we would like to use ourselves as athletes. We do not limit the frequency of contact with the coach or the number of plan modifications (after all, every time-crunched athlete may experience something unexpected).
Coaching


290 € per month

Coaching+


490 € per month

Unlimited access to a dedicated cycling coach with 20 years+ experience in high level cycling

Training Peaks Premium Account

Customized strength training and injury prevention plans

Unlimited Training Plan Adjustments

2x/Week Workout & File Analysis

1x/Month Scheduled Google Meet 30 minutes Coaching Feedback Call

Same Business Day Coach Responsiveness (WhatsApp)

Priority access to Team Way2Champ Coaching Training Camps

Health Trackers Data Analysis

All Nutrition Analysis & Consult With Registered Dietitian
Schedule free consultation
We will talk about your situation and see if working with a cycling coach could be beneficial for you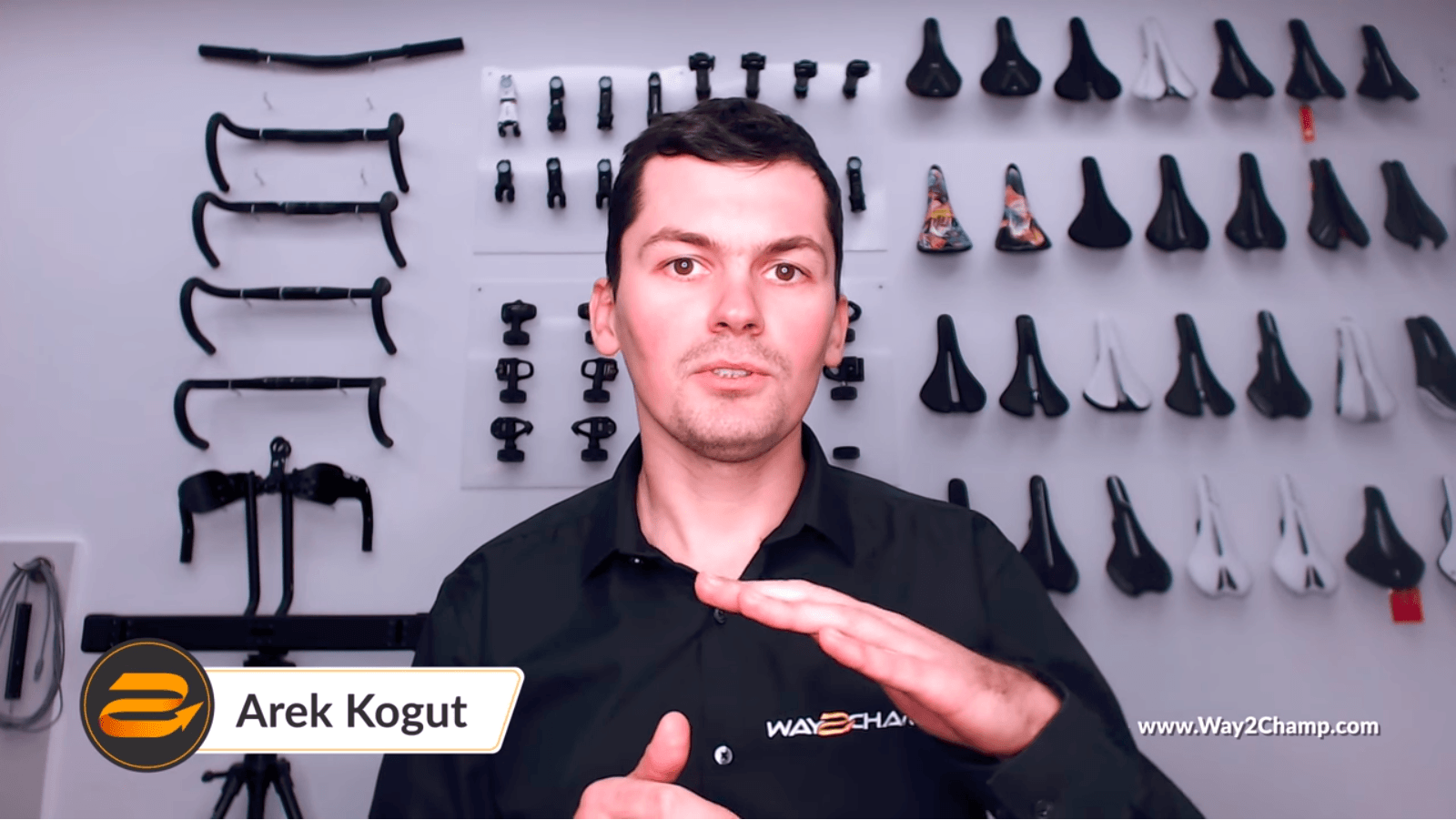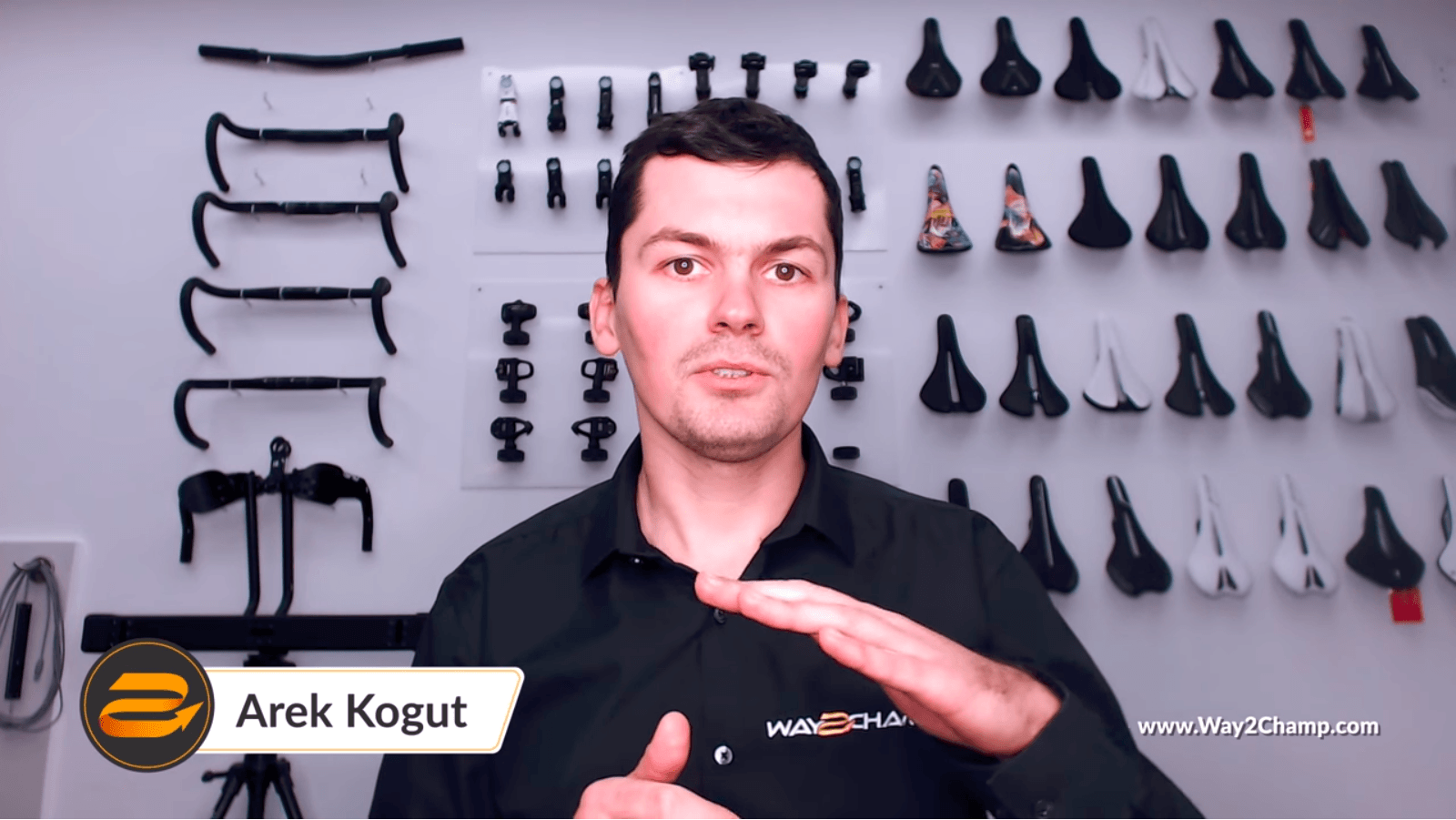 UCI Level Coach, Way2Champ CEO