Your Training Plan includes:
24 weeks – day by day training plan, including structured workouts, days off, rest cycles, gradual increase in loads
Structured workouts (power or HR measurement) – you can download any workout on Garmin / Wahoo / Zwift (automatic synchronization) and follow the tips while doing the training in real time
Instructions on how to adjust plan if you: miss the workout, want to .change the workout, what in case of poor weather, recommendations to ride indoors, when training is considered completed, change cycling training to another
PDF guide – suggested screen fields (heart rate + power measurement)
Calculation of zones – spreadsheet
The way of implementing power profile and hear rate tests
Table describing the training zones used in the plan (Z1-Z7) along with the description of feelings and intensity ranges (HR / W)
Cycling training – Base Period
The jokes are over – you want to be serious about building your cycling form. Until now, you have ridden mainly according to your well-being or with the help of various online free plans or advice from colleagues, but these methods did not work. You feel stagnant, sometimes bored with training, you need freshness and new quality in your cycling training. If the situation matches what you feel, this plan is just for you!
For 6 months you will go from building an oxygen engine, through expanding the pace and threshold zones, to working on anaerobic zones and maintaining the effects developed. The average increase in form after this plan is 15-20% overall (or more!), which you will clearly feel at competitions, group rides with friends, races or average speeds on your favorite routes.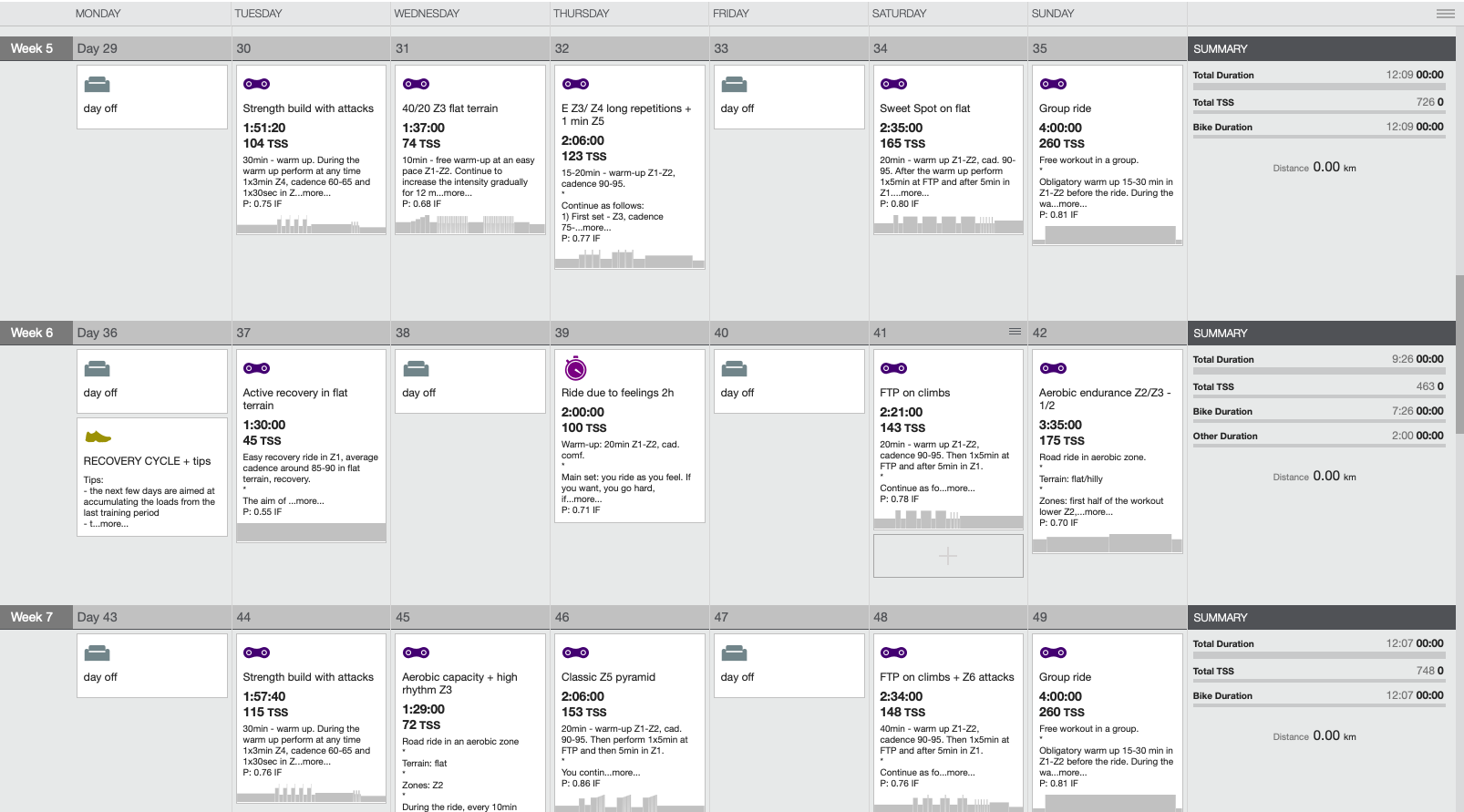 You can start training at any time of the year, if you haven't trained systematically and you don't feel tired.
The plan includes tests for measuring the current FTP / LT level and updating exercise zones with instructions.
The base period plan is designed for beginners and intermediate cyclists who care about preparing their form very well, without the risk of overloading. Workouts are varied and do not cause boredom. Each workout can be downloaded to Garmin / Wahoo / Zwift and the device will walk you through the exercises step by step.
All trainings and the overall concept of the plan were developed by Arkadiusz Kogut, the first coach in Poland of the UCI International Cycling Union, the founder of the Way2Champ coaching company, who has successfully trained dozens of athletes since 2011.
The plan is developed in accordance with the latest concepts of cycling training for amateurs.
Coaching certificates of the author of the plan, Arkadiusz Kogut:
Time you need to complete the trainings:
The plan starts by default on Monday and ends on Sunday after 24 weeks.
ATTENTION: after placing the order, enter one of two options in the comments:
Training Peaks account – [Your email address in Training Peaks]
New account – [we will create a new Training Peaks account for you with the uploaded training plan]
Comments
comments